Home To REAL Corona Virus News!

(among other truths)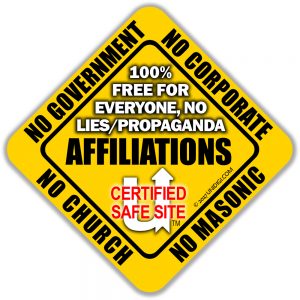 DO YOU WANT SOME GOOD NEWS ABOUT COVID-19?
WELL, YOU'VE FOUND IT AND IT IS COMING IN DIRECTLY FROM "THE SOURCE"! (The Universe, The Light, The Truth, etc. "God") Yea, you can easily, safely and inexpensively treat yourself and your loved ones but there's a catch . . . You have to have an open mind and be smart enough to comprehend some big truths. OK, here you go!

---
Let us begin with the fact that millions of people around the world and especially North America are speaking out in various forums and commentaries saying that based on the tell tale symptoms, they've had this virus as far back as November of 2019. This is very likely, logical and sensible given the fact that the symptoms really are remarkably unique according to everyone who's had it. Excepting those who experience zero symptoms at all and are just carriers (if such cases actually exist, don't bet on it because everything about this in the mainstream media is a lie!) in near chronological order, the symptoms are;
Some experience a very watery, runny nose that comes on abruptly out of nowhere and then subsides in a matter of hours. The exception seems to be those who sleep through this stage without knowing thereby unwittingly swallowing the phlegm which often results in some mild stomach issues, maybe some cramping and diarrhea. A few people report severe abdominal cramping as the initial symptom.
Most have some Hot/Cold spells going from sweating to chills but with no real fever apparent at first which for some will then ramp up to higher temps in a matter of hours to several days.
All experience some kind of throat/inner ear oddity ranging from a tickle to a full on sore throat.
Most get a dry cough which produces little to no phlegm. Those who are treated (self treated or other) with expectorants, antivirals and/or antimicrobials will experience a wet cough which expiates lots of phlegm. The latter folk have a good probability of recovery so long as they keep up the treatment. The former could be headed for trouble because their lungs are getting inflamed and caked with layers of dried mucous which ends up sealing off the bronchials.
Most will have some sinus issues which may produce a sinus headache and/or soreness in the jawbones in cases of tooth/gum problems. (The nose/ear/sinus area is where this and many viruses initially take up residence so it's not uncommon for it to settle in facial bones.)
All experience lethargy from mild where they can still function through activities requiring minimal physical exertion, to extreme where they can barely get out of bed.
One third will experience loss of taste and/or smell for 5 to 10 days.
All with preexisting lung related issues (asthma, COPD, emphysema, smokers' cough etc.) will begin having a hard time breathing feeling as though someone is standing on their chest. This can range from mild to extreme and thereby continuing to fatal pneumonia. As with many other lung related viral infections such as Tuberculosis and Malaria, this is how/why the vast majority of people die from Covid-19.
Many (as with the case of the gentleman in the video below) are reporting an up and down pattern where they think it's subsiding and then flares up again over the course of a week to three weeks, some longer. This in itself is very unique to the world of viral infections.
Below is a good graph of the timelines for the folks that progress to pneumonia (disregarding the "admission to hospital" because many folks don't which we think is very wise so long as they are treating themselves at home and seeing progress/lessening of breathing difficulties. Due to the many diseases and bacteria such as deadly MRSA infections in hospitals, unnecessary visits are a no-no for any wise person! So, if you've got initial symptoms don't panic, just self treat and see if it works for you like it does for the VAST MAJORITY!)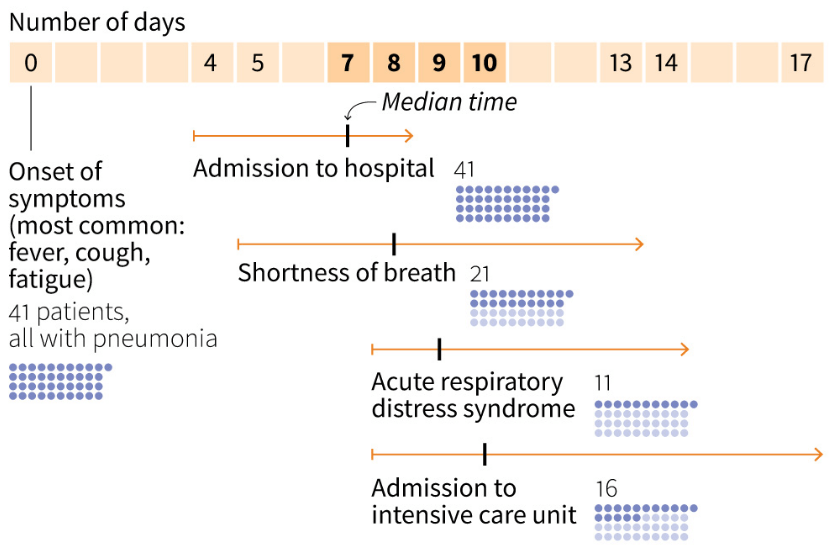 So, it is crucial to NOT postpone early treatment thereby stopping this bug from taking up residence in ones' lungs! We and unknown thousands of others believe to have found the ideal method of making sure that this virus doesn't progress into the deadly pneumonia stage. As you'll see it's simple, safe, very cheap-to-free and begins working within 8 hours after taking just one dose. So, that's what you're here to learn about along with why and who is responsible for this "pandemic".
---
FIRSTLY, WHAT IF THERE EXISTS A PROVEN PREVENTATIVE?
OR A TREATMENT THAT REDUCES SYMPTOMS AND FATALITIES BY UP TO 99%?
OR HOW ABOUT EVEN A CURE? WOULDN'T THAT BE NICE?
WELL, WHAT IF WE HAVE ALL THE ABOVE AND THE LEADERS OF OUR EVIL AND CORRUPT GOVERNMENTS OF THE WORLD KNOW IT!?

SOUNDS GREAT RIGHT!?
NO, WRONG! THAT LOSER TRUMP IS AN EVIL PIECE OF INHUMAN SH*TE EXACTLY LIKE ALL OF OUR LEADERS PAST TO CURRENT!
IF YOU CAN'T HANDLE THAT STATEMENT OR THIS REALITY YOU DON'T BELONG HERE OR ON EARTH SO, LEAVE NOW. WE DON'T WANT TO HELP YOU! FOR THOSE WHO REMAIN, TAKE THIS ADVICE; READ EVERY SINGLE WORD HERE, YOUR FREEDOM, CONTINUANCE OF THIS SHORT LIFE AND THE FUTURE OF YOUR ETERNAL SOUL DEPEND UPON IT.
OK, firstly when we say inhuman to describe govt leaders, we mean LITERALLY inhuman. You don't know it yet but all of these current leaders are not even of Gods' Adamic race like the rest of We the People of the world. Indeed, they're the offspring of what you call ETs! Yes, seriously. THIS IS TOTALLY DOCUMENTED IN COUNTLESS SCRIPTURAL AND ARCHEOLOGICAL RECORDS ACROSS THOUSANDS OF YEARS! For instance here is one very accredited historical record about where this inhuman race began; Genesis 6:4 "There were giants in the earth in those days; and also after that, when the sons of God came in unto the daughters of men, and they bare children to them, the same became mighty men which were of old, men of renown"
HERE IS THE ANSWER TO THE NEVER BEFORE (PUBLICLY) ANSWERED QUESTIONS BEHIND "RH BLOOD FACTORS" AND THE INFAMOUS "MISSING LINK";
Biblical Reptilian/Serpent Sons of Gods or Quranic Jinn. (i.e. lucifer & iblis)
Non Reptilian
Human Beings
aka Adam/Eve
Reptilian/Human Hybrid Giants aka Nephilim or Men of Renown (All male living 1 generation only)


Women



Neanderthall
Women
© 2020 ITSASIGN.COM
New Humanoid
w/New DNA
& RH Bloodtype
Which of these do you think used very advanced technology to build the pyramids, fly around earth and live undetected to this day?


Biblically Shedim and Familiar Spirits, Quranic Jinn. Eternal
w/Extreme Telepathic Abilities
Man or a blood jew/satan which after 1000s of yrs of elitist eugenics (selective breeding) look quite similar!

---


Mortal
Enemies
(literal)
Early Gen nephilim/human hybrid aka evil spirit, satan or blood jew. A lying psychopathic misfit that God destined to hell from his/her birth.

YHWHs' Human Being who jews want to mercilessly oppress and and deceive into committing sins that result in eternal damnation.
We're going to cover more about that with the bible and the quran, but basically you're about to learn the biggest secret on earth that both of our most recent major prophets Jesus and Mohamet exposed. This truly does answer the infamous "missing link" mystery as well as the reason we have humanoids with different "RH blood factors" neither of which have ever been answered by medical science or archeology prior to right now with what you just learned! (Because "they" are the scientists and archeologists who have hidden the truth about themselves while assassinating anyone else who's figured it out! So why are we still alive you ask? BECAUSE THEY CANNOT HARM ANYONE WHO IS UNDER GODS' PROTECTION! You don't know it yet but we [David and Peggy] have survived the largest SWAT team attack in recent U.S. history about 7 years ago [for writing this book] and another smaller one three years ago! And not only did they fail at killing us as they intended, they can't even put me in prison or shut me up!!! By the grace of God they cannot and will not win, we are going to change the world folks and this ridiculous biowarefare assault on We the People is where it's all going to begin!)

If you have a thinking cap, put it on and watch the video below to realize this corona virus is all 100% intentional, it's genocide, murder and attempted murder of We the People of the world.
THIS VIDEO IS GETTING BANNED WORLDWIDE! (Which is why we've archived it on our private servers like hundreds of other videos over the last decade that YOU cannot find anywhere else today!) Dr. Francis Boyle Creator Of U.S. BioWeapons Act Gives 4 Irrefutable Proofs That the CV-19 Is Definitely a Biological Warfare Weapon Manufactured by the US and China! (Click HERE for the translatable transcript of the interview.)

BUT "WHY" YOU ASK? THE SHORT OF IT IS BECAUSE THE INHUMAN, HYBRID RACE WE'RE TALKING ABOUT HATE WE THE PEOPLE AND OUR GOD YHWH BECAUSE HE'S SWORN TO BURN THEM ALL IN HELL FOR ETERNITY! THIS IS WHY THEY OPPRESS US AND POISON US WITH VACCINES. WATCH THIS SHORT 11 MINUTE VID AND YOU'LL NEVER TAKE ANOTHER OF THEIR VACCINES!!!
HERE SOME OTHER REASONS (ASIDE FROM HATRED OF WE THE PEOPLE) WHY THEY'VE CREATED THE CV-19 VIRUS;
After watching that video, as anyone with a 3rd grade education should be able to clearly understand now, the US and Chinese governments worked together in creating this virus (and the other 18 major ones prior such as the bird flu, swine flu, ebola, aids and etc.) to assist in the ongoing genocidal depopulation of mankind (100 million completely innocent, non-combatant men, women and children in just the last century alone) while;
a. Making sh*t tons of money from playing the markets with their knowledge of upcoming events (selling high then buying low), lending $ for bailouts and other "pandemic expenses" loaned to the govt from the privately owned FED to make hundreds of billions on the interest (as is always the case) and countless other smaller cash grubbing schemes. All that while;

b. Assisting in the popularization of the Trump/Pence reelections by making them seem like heroic figures for supposedly protecting the public from spread of the virus. Note; Trumppence = trumpets as in when the trumpets blow. Joel 2:1-2 "Blow ye the trumpet in Zion, and sound an alarm in my holy mountain: let all the inhabitants of the land tremble: for the day of the LORD cometh, for it is nigh at hand!" (Think that's silly? OK, just go away now and enjoy your state of ignorance, maybe you'll get lucky, catch CV-19 and die without knowing how to EASILY cure yourself so your plight won't last much longer! Cross your fingers . . . oh and enjoy hell fool because that's where you're ignorance is going to land you, buh-bye!) That said, for those worthy of this grammatical effort next we have a 3rd blatantly obvious reason for creating the big depop "pandemic" . . .

c. Further assisting the genociding of We the People by necessitating another bogus vaccine containing formaldehyde, aluminum, mercury and cells from aborted fetuses due to the depopulation efforts behind planned parenthood. (if you've been living under a rock and don't know these facts take 15 minutes to read the homepage of www.AffirmativeActionAlliance.com for that) The aluminum and mercury in vaccines also dumbs people down and creates vast profits for big pharma by making WTP sick and more vulnerable to cancer, various infections and viruses so, it's a trifold win-win-win for the kikes!
d. Profiting big pharma from sales of yet another bogus, costly, less effective and unhealthy or even DANGEROUS synthetic drug ("chloroquine" as donald duck advertised in the vid above) that is simply another mimic of what God originally created. (in this case "wormwood" a widely occurring species of "artemisia" a weed with over 200 types around the world that are free to anyone with a brain which contain "artesiminin" the natural medicine they seek to replace with chloroquine.) So we have all of those reasons while also . . .

e. Creating justification for taking away more of our constitutional rights and conditioning We the People to accept far more wrongs including martial law so that one day, the ruling elite and their inhuman minion can live in complete safety under a blanket of tyrannical communism exactly like that of China, Russia and all the other supposed "jew" ran governments. (Many people who think they're jews by race simply aren't, they're just deceived Adamites. The real people at the top of their turd pile are human hybrids who've been at war with We the People ever since the days of Adam.) So there you have some of the reasons behind why "they" are doing all of this.
NEXT, SEVERAL UPSHOTS FOR WE THE AWAKENING PEOPLE; (FYI; Sleeping dumbasses who hit snooze on the proverbial alarm clock that's going off right now won't be able to comprehend most of what's being said here.)
First of all, if you're one of the millions of people who've been laid off and thereby have a newfound abundance of free time, be thankful. VERY THANKFUL! This is one of the initial gifts God has granted you in combatting the people responsible for all of the negative propaganda and lies about what they have labeled the "novel" corona virus;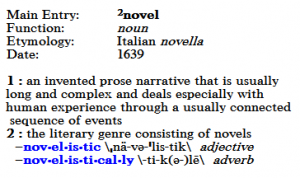 As we'll see that is indeed the correct use and definition of "novel" in this regard! And the reasons you should be thankful, VERY THANKFUL are simple.
A. Time is the most elemental tool in overcoming deceptions. No time = no awakening, period. And no awakening = being sentenced to hell for eternity. (a very long time!) So, now that you have some extra, use it wisely because;

B. Every piece of scripture on earth says those who are deceived are going to fail this test and be sent to hell because they didn't follow the rules of life, the law. Read Hinduisms' Vedas, the 66 books of the Bible written by 40 different authors over a couple thousand years and then top it all off with mankinds' final testament, the Quran. Actually disregard that, just download and read the best English translation of the Quran on earth (linked below) it's all you need and it just so happens to be the only version made specifically for non-believers and Christians which of course make up the brunt of our societies. (If your eyes just rolled at mention of the Quran, you're in major need of correcting all the brainwashing that's been performed upon you! Start there, READ IT FOR YOURSELF INSTEAD OF BEING LED LIKE A SHEEPISH FOOL TO THE SLAUGHTER!) And lastly why you should be thankful, VERY THANKFUL;

C. This pandemic has you and everyone thinking about death does it not? What are the only sources of written instructions mankind has regarding the paramount subjects of life and death? Uh huh, the Vedas, the Bible and the Quran which all agree with each other to a perfect T even though they were written by dozens of different authors in multiple languages from around the globe over the course of several thousand years! Now let's just be clear, the other side of all this is bad news for those who fail to read the instructions and thereby don't know how to follow the rules. (Ignorance of the law is no excuse, especially Gods' laws when He has sent thousands of prophets and messengers to every nation on earth for millennia!) But for those who do read the instructions and follow the rules there is good news, VERY GOOD NEWS!!! (aka "the gospel"!)
Below is the gospel for "these times" which in the Bible are referred to as "the end of the aeon" (Meaning the end of the age of Pisces and beginning of the age of Aquarius which occurred on 12/21/12). It is named "The Quran For Christians" but rest assured it is for EVERYONE and that most definitely includes YOU!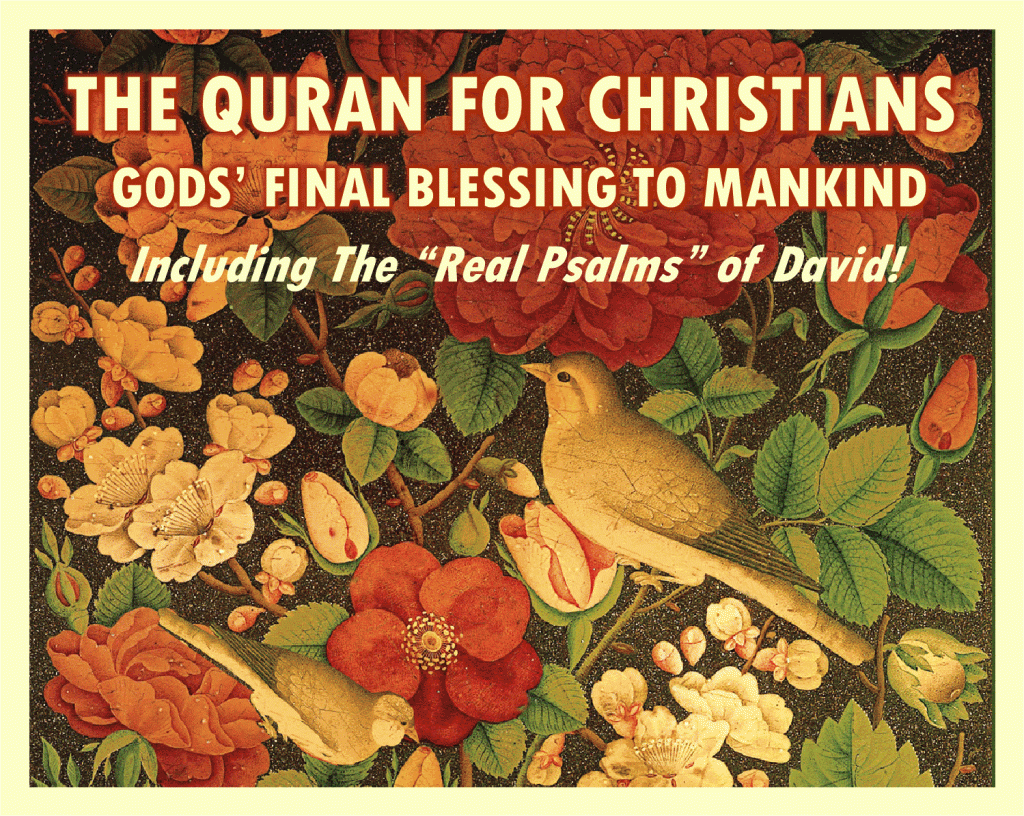 Take It. It's Free!
DOWNLOAD THE EBOOK


You're going to be surprised about what you learn in just the introduction alone, GUARANTEED!
OK, so you now have the book, the time and the motivation, congratulations because prior to the COVID-19 outbreak you had none of these elemental requirements to pass this test called life! (unless you're a fool who didn't bother to download it FOR FREE. If that's the case, hit the road and don't tie up any more of our bandwidth. You're not worth it.)
FYI this good news from what is bad news for most is how God rolls, you'll find that whenever something looks bad, believers can look again and it will be actually be awesome! This satanic world is chock full of those sort of opposites and they're all proverbial clouds with silver linings for any would be believer, if that's you, you'll see.
Now, regarding the truths behind this farce of a COVID-19 pandemic; (Named so because it is the 19th virus originating from china, this time from Wuhan. Did you catch that, ALL OF THESE DEADLY DISEASES ORIGINATED IN CHINA! That's not statistically possible, it shouldn't take more than that fact alone to know this isn't an act of God.)
The main facts:
According to all the data collected worldwide to date it is said that 82% of cases are classified as "mild". (This figure is NOT anywhere near correct though, it has been severely manipulated and thereby understated whereas the actual number is likely 98%. And yes, even a child will be able to deduce this obvious truth after reading this.) But regardless, what this "mild" descriptor actually means is many of those folks don't even really know they're sick or get hit as hard as others, many will just sense as if they're about to get sick but then after a week or so it goes away. So, basically the worst of symptoms the VAST MAJORITY of folk who catch this virus will have are runny noses, itchy feeling ear canals, maybe a sore throat, some hot/cold flashes, shortness of breath, some delirium from loss of sleep and likely some lethargy. (In great part due to anxiety imposed upon them from the corrupt and evil govt ran MSM.) That's it.

15% (or more likely 1% or so) will have the same symptoms but to a greater degree where they're just wiped out like with a cold or the flu and have to take time off, maybe a week or two at most, it depends on the state of their immune system, their diet and how well they take care of themselves while down. These folks might also initially experience diarrhea (from swallowing phlegm) followed by body aches, abdominal cramps and some difficulty with breathing due to inflammation of the airways similar to that which asthmatics experience. They will feel sick as they should because they are but it's not the end of the world, they will be fine. If this is you just rest, drink lots of fluids and catch up on some reading, preferably the truth and the Quran. And with those nuggets of sound advice that any well intentioned doctor or friend would give you, you'll be right as rain in no time just as you always are after being sick from any viral infection. No vast stocks of toilet paper, ammo or plastic bottles of H20 required!

Supposedly 3% get pneumonia which is a secondary bacterial infection caused by a combination of the current damage being inflicted on patients by the virus on top of a weakened immune system from prior and/or existing health issues. As with any communicable diseases in our midst some folks need to be more concerned and cautious of their activities. Wearing a face mask and keeping hand sanitizer available at all times is not only wise it's crucial, indeed for them the trick is NOT GETTING INFECTED aka

NOT BEING STUPID

! (This ALREADY LOW 3% number is being intentionally and falsely increased by the govt by "not testing" all cases supposedly due to lack of test kits and other bogus excuses. This is BS, they only test the worst of cases thereby concluding an outlook of the worst of outcomes for We the People. Do you get it? If they only test and document outcomes of the worst cases it makes the virus seem really nasty, when it's not. This is the flat truth behind why they will not test YOU if you don't have major signs of illness, most specifically a high fever which only happens to a small percentage of carriers and only at infrequent, random intervals. So, if all of us were tested the data would show that their "pandemic" is indeed totally widespread but with a mortality rate similar to the flu or common cold. That's how much power the masonic/satanic leadership has over mankind, only by deception can they succeed! Get it? GET IT!!!) And why would they do this you ask? BECAUSE THEY WANT AN EXCUSE FOR MARTIAL LAW SO THEY CAN USE IT TO ROUND UP EVERYONE WHO'S AGAINST THEM AND EVENTUALLY END UP WITH A COMMUNIST COUNTRY WITH THEM IN TOTAL AND UTTER CONTROL AND IN COMPLETE SAFETY FROM WE THE PEOPLE. But it won't work because many of those awakened folk are on Gods' team and you cannot harm them in any fashion! Sounds wild right? It is, that's God for you!

---
FYI: Here's a link to the best site on the net with near real time, worldwide mortality and infection statistics;
https://coronavirus.1point3acres.com/#stat
---
OK, below is a video showing an excellent example of a real life case that the supposed 15%ers and 3%ers will experience. Note that he tries to keep working and even going to the gym over the worst of the course of his 3 week long bout, but that's not wise! If you catch this virus use a little common sense, rest, relax and read something worthwhile! (hint, hint) And like him, if you think you're feeling better give yourself another day or two or three before physically stressing yourself, let your body recover. If not, you'll just stay sick longer.
Also note what one would assume he himself now sees as a foolish act of going to the ER to be tested instead of his doctors office, that's a NO NO!!! (Because hospitals commonly spread deadly diseases such as MRSA. Additionally in my opinion why would anyone want to be put on that list and WTF difference does it make to know if you have an un-treatable, temporary bug right!? Just be responsible and don't spread it regardless of what it is, that's common sense.)
Anyway my guess is this guy would have been an 82%er had he not made these mistakes! Also, it is common knowledge that fever is the bodies' natural defense mechanism which kills viruses so his taking of fever reducing meds made/sold by big pharma is obviously counterproductive. Also, many NSAIDS (aspirin, ibuprofen, naproxen etc.) exacerbate inflammation in the lungs even causing acute pulmonary hypersensitivity, not good with a respiratory virus! Just remember God created your body, it will do just fine against any assault from masonic/satanic f*ckwits if you allow it to.

Here is this mans' otherwise very responsible and well done personal account;

FYI that video was on jewtube where masses of shills love to troll spreading disinfo for their tribe. Surprisingly, they were bombarded with positive comments from We the People which basically overshadowed all of theirs. One of the most telling parts of the many, many comments there is the repeated mention of others now realizing their already having had the bug going as far back as December. TONS of people have already contracted this virus most of whom indeed were like the 82%ers we discuss above and many are only now realizing it after hearing about the symptoms.

The moral of the story: To recover from this bug follow the advice of 1,000s of very experienced naturopaths and their many more 100s of 1,000s of patients who vouch for naturopathy from their own experiences. (This includes us!) Aside from that simply rest, drink/eat well, stay clear of satanic government entities and do not take their pain/fever killing pharmaceuticals or poison riddled vaccines! And pray to/thank God, put that at the top of your list!
---
READ AND COMPREHEND THIS NEXT PART, IT'S A MOUTHFUL BUT IS 100% TRUE. All of this was intentionally done by satanic leaders who literally work for a non-human being named lucifer and others like himself (called "sons of god", "shedim" or "familiar spirits" in the bible or "jinn" in the quran and nowadays commonly referred to as ETs) These satanic/masonic leaders practice divination (future telling) via the aid of lucifer and his brood of telepaths. This is how and why the jew Dean Koonz predicted a man-made airborne respiratory virus originating in a lab just outside Wuhan China in 2020 way back in 1981 and he even stated it would then become a worldwide pandemic. (Wuhan is where this started and where there is indeed now a level 4 biolab which experiments with biowarfare viruses for the chinese govt.) Again he wrote this 4 decades ago . . .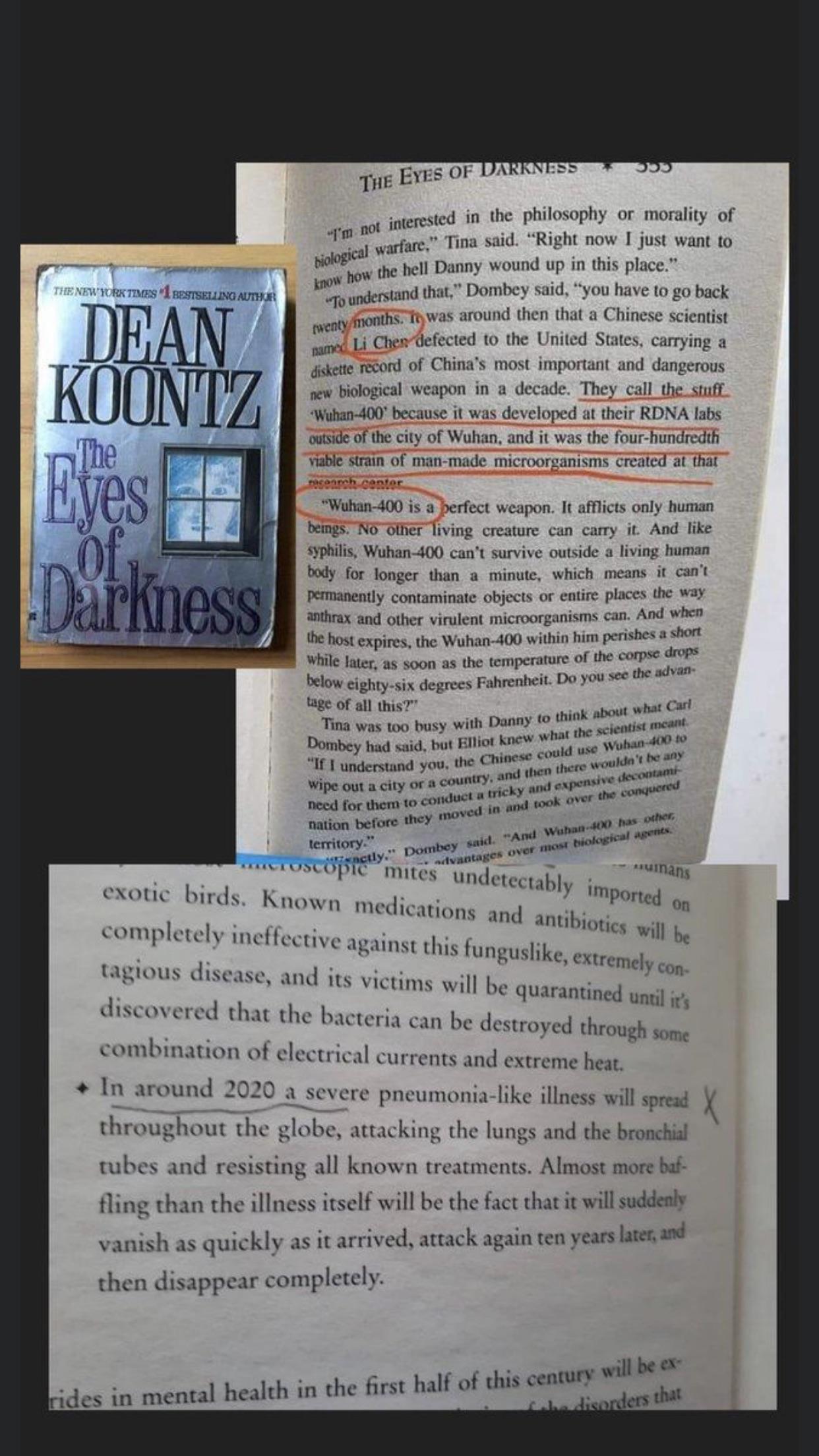 Just a coincidence? If that's true then why would about 5 billion people believe there's a God who could send hundreds of prophets like Jesus who also PROPHESIED LITERALLY THOUSANDS OF PROPHESIES ABOUT "END TIMES" MOST OF WHICH HAVE COME TRUE IN JUST THE LAST COUPLE DECADES!? Still not convinced that prophets of God and worshippers of lucifer can predict the future? OK, explain that book above and how about these cards from the 1994 Illuminati card game made by the jew Steve Jackson;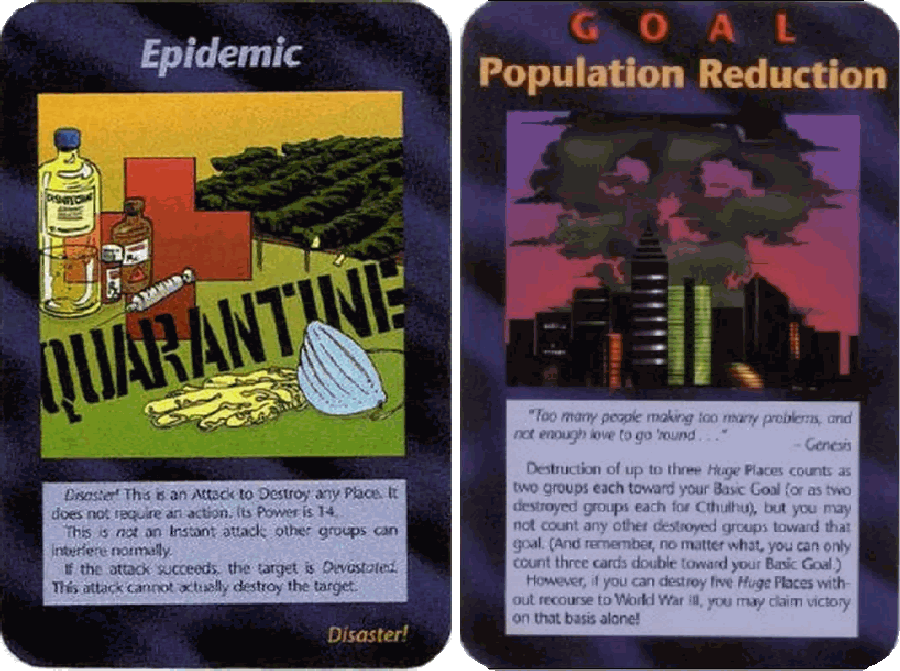 And what about these from the same set of about 300 cards which were sold SEVEN YEARS BEFORE 9/11?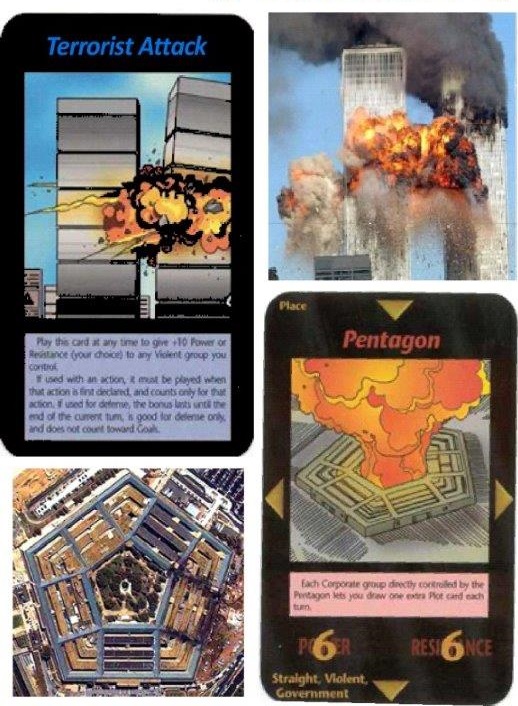 C'mon, it's an exact match in both cases of the 9/11 attacks and it was released SEVEN YEARS BEFORE 9/11.
And by the way, most of the stuff on the remaining several hundred cards has all came true as well! Still can't understand these aren't coincidences and that satanism is as real as apple pie? Well, I've got news for you, lucifer and his brood of vipers as Jesus called them and spent his entire life fighting and exposing for God are quite real, they are who your satanic/masonic leaders work for. (These are real, highly intelligent reptile like beings with IQs in the 1000s here on earth to this day who we call ETs and they are also extremely telepathic with the ability to see much of the future, but not all of it like God can. And if you read the first dozen pages of our Quran you will have absolutely irrefutable proof of this from God Himself.)
MORE ABOUT THE ARTEMISIA PLANT SPECIES

Artesiminin is one of the key active components in this class of plants that has been used by peoples around the globe to kill various viruses and parasites for thousands of years. It also CURES otherwise, would be fatal cases of Tuberculosis AND Malaria when their drugs don't! (note those are both respiratory killers just like CV-19) Here is another easily read site for the layman with more good info on the key Artemisia species. Read the articles in those links to see for yourself. From what we've learned so far, the main 2 species of Artemisia folks can use against this virus are Artemisia annua (aka sweet Annie) and Artemisia absinthium (aka wormwood).
This is Artemisia absinthium (wormwood). We have tons of this stuff growing wild here in eastern WA right here on our property! Here is the full rundown on its pharmacological values; https://www.drugs.com/npp/wormwood.html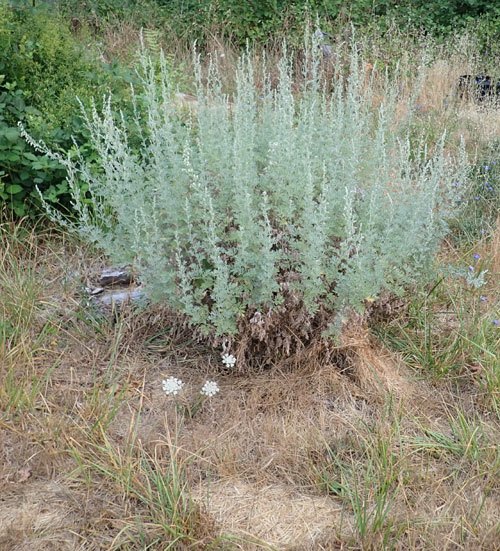 And this one is Artemisia annua (sweet Annie) which is being used as a highly effective CURE for the age old deadly diseases of Malaria and Tuberculosis! Here is the full rundown on its pharmacological values; https://www.drugs.com/npp/sweet-wormwood.html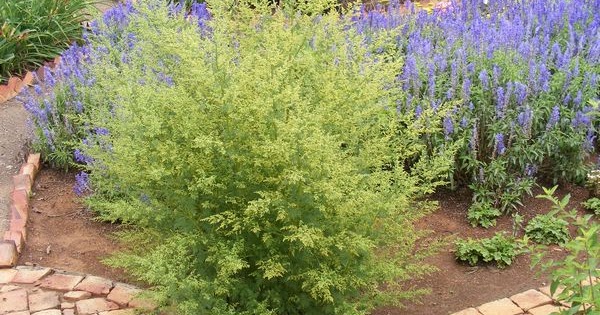 WE FIRMLY BELIEVE THESE NATURALLY OCCURRING PLANTS WILL SAVE MANY LIVES IF SIMPLY USED BY PEOPLE WITH BRAINS THAT REASON!

MORE TO COME . . .